During his last appointments at the EU Parliament in Bruxelles, Dr Maurizio Scarpa, expert in the field of rare neurological disorders and President of the B4B Foundation, had been invited by MEPs Maria da Graça CARVALHO and Paula Brito e Costa, President of the Rarissimas – the Portuguese National Association for Mental and Rare Diseases– to visit  Portugal and participate to an important workshop on Rare Diseases that took  place over the third weekend of March 2014. The workshop, organized by Rarissima, was also attended by MEPs Maria da Graça Carvalho, that accompanied Dr Scarpa visit and gave a talk entitled: Diseases of Lysosome under the 2020.
The Meeting represented a great opportunity to promote a closer collaboration between experts in the rare disease field and researchers from different countries and culminated with the signing of an agreement of collaboration between Brains for Brain Research Foundation and Rarissimas.
Rarissimas provides aid for sick persons and families with Rare Diseases who assemble together.  Raríssimas was founded in 2002 by a group of mothers of children suffering from a rare disease. It was registered as an NGO in 2003. Its headquarters are in Lisbon, but there are two other Delegations (Oporto and Azores). Raríssimas has 3 Rehabilitation Centres and a Helpline – Linha Rara-, distinguished for the 2nd year at a European level. Raríssimas is a founding member of FEDRA – Portuguese Federation of Rare Diseases Associations-, a member of Eurordis and Cornelia de Lange Syndrom Foundation.
One of the Association main achievement is the project  "Casa dos Marcos", a sheltering home for adults and/or young/adults, bearers of rare diseases, lacking in support and in intellectual or leisure activities. The Resources Centre, located in Moita, near Lisbon, is also a home for sick persons suffering rare pathologies after the death of their parents. It is has been conceived as a space where people affected by a rare disease can develop the skills that will allow them to integrate into society and live lives that are as normal possible. The Casa dos Marcos also serves as a residence for those that require intensive care.
The signing of a international collaboration agreement in the context of scientific research, in a difficult and complex world such as those of Rare Diseases, represents a major breakthrough  for the many patients affected by these diseases.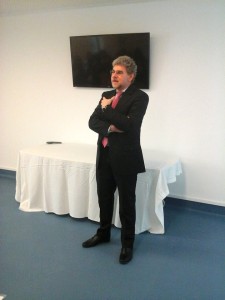 As noted in a comment by the President of the B4B, Dr Maurizio Scarpa, the agreement is a great chance to "promote cooperative researches and projects and to exchange our knowledge". In the same sense, the President of the Rarissimas , has commented that the agreement "represents an important first step toward the establishment of a fruitful and concrete collaboration between the two Organizations" .
Such resolute commitment aims to improve the quality of life of individuals with a rare disease through a concerted effort to address the challenges associated with taking care of affected patients. This will require cooperation and communication across all relevant sectors in the different countries.
It is beyond any doubt that the agreement provides also opportunities for joint action toward the development of new therapeutic strategies in the area of ​​rare pediatric neurological disease, in particular lysosomal disorders.