How can You help Us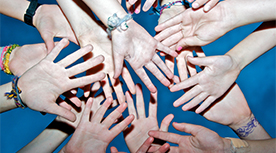 Approximately 100 billion: it's the number of nerves cells (neurons) in the human brain.
0.5 to 120 meters per second: it's the speed with which information travels in the nervous system.
More than 90: it's the amount of genes contributing to brain development
Let these numbers have the same meaning for everyone:
At the age of 6 years the brain has nearly completed its development, by age 20 it reaches full maturity and at age 30 a physiological brain function decline begins. Brains for Brain takes care of those who cannot meet these developmental milestones, join us!
Choose your pace:
Donations with Bank transition
Banca INTESA Sanpaolo
C/C intestato a BRAINS FOR BRAIN FOUNDATION
IBAN:IT82V0306912171100000001234
SWIFT BCITITMM

How can You help Us, Become a Partner!
Contribute to this project, in addition to the high ethical end, generates different opportunities for your business:
– Show the costumers yours company's ethical profile
– Encouraging team-building and the commitment to the result by facing big challenges
–  Implement brand visibility operations with the statement
– Guaranteed by Brains for Brain Foundation
– Define forms of brand-Foundation collaborations through customizable strategies