EU ACTIVITIES (POLICES)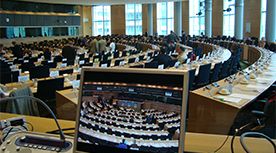 B4B EU activities aim to advance knowledge and improve standards of care for patients with rare neurological disorders across the EU, but in particular aspire to raise awareness amongst EU policy makers about the gaps in research in the field of rare pediatric diseases.
Rare neurological diseases of childhood pose a serious medical health issue in Europe. Although individually uncommon, collectively there are thousands of rare diseases that affect a large number of people. The need to collaborate to focus on these disorders was highlighted during a meeting organized by the Brains for Brain Foundation, the European Brain Council, the Lysosomal Storage Disease (LSD) Patient Collaborative and the Veneto Region, and sponsored by MEP Mrs Amalia Sartori (Veneto, Italy), which was held at the European Parliament, Brussels, on December 2010. To reinforce the necessity to work together and center attention on rare neurological disorders of infants and children Dr Scarpa, on behalf of the B4B foundation, organized a roundtable inside the EU Parliament in Brussels, on November 26, 2013 aimed to seek endorsement on the proposal of an European PHD programme on paediatric rare diseases, in particular lysosomal  diseases,  as a pilot action within the framework of the "Towards a Maastrich for Research" Manifesto, which was launched by MEP Amalia Sartori  and MEP Luigi Berlinguer in June 2013.
The final goal was to collect signatures to publish a call to action to show how important it is to link education, research, employment to advance medicine, especially in an area like rare diseases, mainly LSDs, where knowledge and resources are limited.
Today B4B has connections into all of the main stakeholder groups including scientists and expert clinicians, patients and families associations, Industries, Politicians and EU parliament members. B4B, in fact, collaborates with the most strategic stakeholders such as leading Biotech Companies in the field of neurodegeneration (Actelion, Genzyme, Shire HGT, Biomarin, to-BBB, Nanosystem Synageva), International Scientific Organizations (the European Brain Council and the European Working Group on Lysosomal Diseases) and International Patients and Carers Associations such as the MPS International Network, The International Gaucher Association and Niemann Pick and Batten Associations. Moreover, the InNerMed project granted by DG SANCO represents a key instrument for enlarging B4B network and facilitating the establishment of new partnerships and collaboration among physicians, researchers, patient advocates, carers, policy- and decision-makers and industry in order to encourage and support research and the translation of scientific breakthroughs into clinical practice.
B4B EU activities are committed to:
promote knowledge sharing through the organisations business processes and systems
strengthen the link and collaboration between clinical and basic science. The very basic research is the key for the future therapies and any effort is direct to foster the translation of findings in basic research quickly into medical practice and meaningful health outcomes.
promote collaboration tools such as knowledge trees, activity rooms and knowledge groups to internal teams and external partners
disseminate knowledge and share results throughout the organisation
provide support for the creation of communities of practice, business units and networks including guidance, workshops and trouble shooting