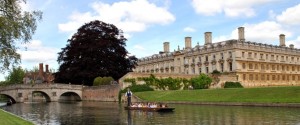 The Pathobiology of the Lysosome and Lysosomal Diseases Conference 2016 shall take place at Clare College, Cambridge, UK in July 2016
This conference will present an overview of recent progress in the understanding and management of lysosomal storage disorders. Internationally renowned scientists will cover subjects ranging from the basic biology and pathophysiology of this group of disorders to discussions of animal models, genetics, advancements in treatment, and pharmacoeconomic challenges posed by rare diseases in general and lysosomal disorders in particular.
Dont miss out on this fantastic speaker line-up, click here to view the speakers. You can also submit an abstract, oral or poster, before 7th May 2016.
For more info visit http://www.zingconferences.com/conferences/the-metabolic-role-of-the-lysosome-and-nutrient-sensing/