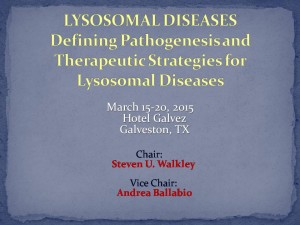 We are pleased to announce the  Lysosomal Diseases Gordon Research Conference that will be held in March 15-20, 2015
c/o  the historic Hotel Galvez – Galveston, Texsas.
This meeting will  mark the 60th anniversary of the development of the lysosomal disease concept by H.G. Hers in 1965. Emphasis will be placed on the burgeoning role of the greater lysosomal system as a key regulator of cell homeostasis in health and disease. Invited speakers will focus on newly emerging aspects of lysosomal biology, molecular and cellular mechanisms of pathogenesis and the relationship of lysosomal diseases to other disorders, the consequences of heterozygosity and of XCI in X-linked lysosomal disorders, new experimental therapies and experiences with ongoing clinical trials. There will also be a late-breaking topics session (with speakers chosen closer to the time of the meeting so as to include the most recent developments) and short poster talks (based on those posters generating the greatest interest during the meeting). In addition to invited speakers, each session will also have short talks with presenters chosen prior to the meeting based on abstract submissions.
APPLICATIONS DEADLINE
Applications for this meeting must be submitted by February 15, 2015. Please apply early, as some meetings become oversubscribed (full) before this deadline. If the meeting is oversubscribed, it will be stated here. Note: Applications for oversubscribed meetings will only be considered by the Conference Chair if more seats become available due to cancellations.
Related Meeting Information
The Lysosomal Diseases Gordon Research Conference will be held in conjunction with the 
Lysosomal Diseases Gordon Research Seminar
. Those interested in attending both meetings must submit an application for the GRS in addition to an application for the GRC. Please refer to the Lysosomal Diseases GRS web page for more information.
PRELIMINARY PROGRAM
A list of preliminary session topics and speakers is displayed below (discussion leaders are noted in italics). The detailed program is currently being developed by the Conference Chair and will be available by November 15, 2014.  Please check back for updates.
Keynote Session: Where We Are, and Aren't, on Understanding and Treating Lysosomal Diseases
(Andrea Ballabio / Beverly Davidson / Tony Futerman)
The Lysosomal System as Regulator of Cellular Homeostasis
(Paul Saftig / David Sabatini / Shawn Ferguson / Carmine Settembre)
Lysosomal Dysfunction and Disease Pathogenesis
(Fran Platt / Stephanie Cherqui / Stephan Storch)
Mechanisms of Lysosomal Function and Dysfunction
(Karin Ollinger / Marja Jaatella / Haoxing Xu / Tamotsu Yoshimori)
New Proteins Linked to Lysosomal Dysfunction and Disease
(Thomas Braulke / Miriam Meisler / Antonella De Matteis)
Late-Breaking Topics / Selected Poster Presentations
(Volkmar Gieselmann)
Cell Biological and Clinical Consequences of Heterozygosity in Lysosomal Diseases, Including XCI
(Ellen Sidransky / Gheona Altarescu / Avi Orr-Urtreger / Matthew Taylor)
Innovative Therapeutics for Lysosomal Dysorders
(Elizabeth Neufeld / William Balch / Peter Lobel)
Clinical Trials for Lysosomal Diseases – Ongoing and Upcoming
(Chester Whitley / Forbes Porter / Luigi Naldini)
For more info please visit  http://www.grc.org/programs.aspx?id=14946