"Inherited NeuroMetabolic Disease Information Netw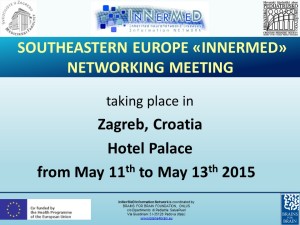 ork" (InNerMeD) is an European project and it has been funded by the Executive Agency for Health & Consumers (DG-SANCO) under the Second Programme of Community action in the field of Health, 2008-2013 to be the first European Network on neurometabolic diseases. Since the 21st of May 2013, date on which the InNerMeD project was officially kicked off, a great effort has been done by all partners involved in the project for reducing the fragmentation of information in the fields of inherited neurometabolic diseases (iNMDs).
InNerMeD partners are now planning the first InNerMeD network meeting for Southeastern Europe countries. Mainly organized by the Croatian project partner, and coordinated by the Brains for Brain Foundation, the meeting will be held in Zagreb on 12-13 May 2015 and will have the aim to enlarge the InNerMeD network with contacts from this geographic area. Moreover, this event will provide a general overview of the current status of health and research in the field of neurometab
olic diseases in the Southeastern Europe. Speakers from the neurometabolic communities of 20 countries will be invited to give information about centres, professional societies, family groups, laboratories, newborn screening, patient registries, research focuses and ongoing projects regarding neurometabolic diseases in their own countries.
The 20 countries that will attend the event are the following: Albania, Bosnia & Herzegovina, Bulgaria, Czech Republic, Cyprus, Greece, Hungary, Kosovo, Latvia, Lithuania, Macedonia, Moldova, Montenegro, Poland, Romania, Russia, Serbia, Slovakia, Slovenia and Turkey.
The Network meeting will be coupled with the ordinary InNerMeD NCC (Network Coordination Committee) meeting, which will be held in May 11-12, in Zagreb again. In this way, all InNerMeD partners will be better introduced to the Southeastern European neurometabolic community and it will be possible to build up stronger contacts to reinforce and enlarge the InNerMeD Network.
The agenda of the meeting will be soon available.