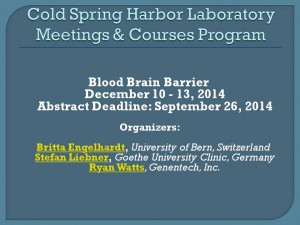 We are pleased to announce the fourth Cold Spring Harbor conference on Blood Brain Barrier which will begin at 7:30 pm on Wednesday, December 10 and run through lunch on Saturday, December 13, 2014.
The purpose of this Cold Spring Harbor meeting is to explore and encourage new conceptual approaches and to apply novel methods to the neuroprotective physiologies of BBB structures. Our goal is pair genetic model organism biological methods with recent insights in vertebrate BBB physiology and development. We hope to create cross fertilization between fields that rarely see each other and get people thinking about how model systems can help parse the regulatory networks necessary for parsimonious BBB function.
The conference is intended to foster cross-disciplinary exchange of ideas and expertise between developmental and evolutionary biologists, vascular and BBB physiologists and disease oriented industry scientists interested in modifying or circumventing specific pathways of neuroprotection. While a number of speakers have been invited, please note that the majority of oral presentations will be drawn from openly submitted abstracts.
Organizers
Britta Engelhardt, University of Bern, Switzerland
Stefan Liebner, Goethe University Clinic, Germany
Ryan Watts, Genentech, Inc.
Keynote Speakers
Richard Daneman, University of California, San Francisco
Maiken Nedergaard, University of Rochester Medical Center
Topics    
BBB Development
The Functional BBB
BBB in a Dish 
Molecular BBB Transport
The Diseased BBB
Pericytes, Astrocytes and the BBB 
Discussion Leaders

Joan Abbott, Kings College London, UK
Dritan Agalliu, University of California at Irvine
Bruce Appel, University of Colorado
Robert Bell, Pfizer, Inc.
Elisabetta Dejana, Fondazione IFOM, Italy
Per-Ola Freskgard, F. Hoffmann-LaRoche Ltd, Switzerland
Robyn Klein, Washington University School of Medicine
Jeremy Nathans, Johns Hopkins School of Medicine
Eric Shusta, University of Wisconsin
Benoit Vanhollebeke, Universite Libre de Bruxelles, Belgium
Jack Wong, Houston Methodist Research Institute
Joy Yu, Genentech
For more info please visit  http://meetings.cshl.edu/meetings/2014/bbb14.shtml