We were deeply saddened to hear that the brave and inspiring Christine Lavery passed away on Tuesday 19th December 2017 in hospital surrounded by her family, following a brief illness.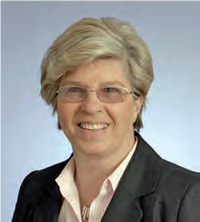 Christine has played an outstanding role in our Lysosomal storage diseases community and for the entire field of rare inherited diseases.
Christine tirelessly championed the MPS Society from its very conception in the early 1980s up until her untimely death. She was a formidable lady who cared passionately for every MPS Society member, past and present. Her efforts saw her work with patients, families and professionals all over the world as she dedicated her life to improving the knowledge, advocacy support and clinical outlook for patients with MPS. But she also played a pivotal role as Founder of our Brains for Brain Foundation (B4B) and as active partner of the European Reference Network for rare inherited diseases (MetabERN). In agreement with the spirit of B4B and MetabERN she has collaboratively worked with other patient organizations in Europe to increase patient empowerment and provide patients with access to expert clinical centres, no matter where they lived.
We are so grateful for her contribution, and the support she has given patients and families in a range of other areas, including helping to gain specialist education, disability benefits and respite care, as well as providing support for siblings and carers and for dealing with issues such as bereavement.
We will always remember her as a great, determined, strong and courageous woman, as a person of high ethical and moral character who strongly contributed to increase awareness of, and to raise funds for the support of scientific and clinical research into rare inherited diseases, especially lysosomal storage diseases. She was firmly convinced that organizations alone cannot provide enough funding for such initiatives, and therefore devoted a significant amount of her time trying to actively encourage and enhance collaboration with governments, the European Commission and Parliament, industries and all the important stakeholders that are needed to support further advances in research.
We will never forget her thoughtfulness and kindness, and how she touched our lives. During this time, our thoughts and prayers are with her family and friends.
CHRISTINE LAVERY SHORT BIOGRAPHY
Christine Lavery was appointed Chief Executive of the Society for Mucopolysaccharide and Related Diseases (MPS) in 1993. During her time at MPS, she took the charity to new heights, managing a research budget of over £500,000 per year and a UK-wide advocacy service providing needs-led support to over 1200 children and adults with MPS, their families and professionals, in the areas of home adaptations, special educational needs, access to new therapies, respite care, palliative care and pre- and post-bereavement support. Mrs Lavery served on the Department of Health Advisory Board on Genetic Testing and was the patient representative in the Department of Health National Specialized Commissioning Advisory Group.
Between 1984 and 1993, Mrs Lavery was employed as National Development Officer at Contact a Family, a national UK charity. During this time, she worked with parents and carers to set up over 300 patient support groups for a wide range of specific diseases. In 1991, with the help of a researcher, Mrs Lavery wrote the first edition of the Contact a Family Directory of Rare Diseases and Support Networks, which is now available on the Internet.
Prior to 1984, Mrs Lavery lived in Japan for 4 years with her husband and two children, the eldest of whom was terminally ill with Hunter disease.
During her husband's tour of duty as First Secretary at the British Embassy, Mrs Lavery worked voluntarily for Save the Children and the International Year of the Child, and organized the first diplomatic sponsored climb of Mount Fuji.
Mrs Lavery was awarded an MBE for her services to metabolic diseases by HM Queen Elizabeth II in the New Year's Honours List for 2002, and at the 2006 International Symposium on Mucopolysaccharide and Related Diseases received 'a lifetime award' from the International MPS Community.