THE BRAINS FOR BRAIN ONLUS FOUNDATION PROMOTES THE BRAIN AWARENESS WEEK
March 14-20, 2016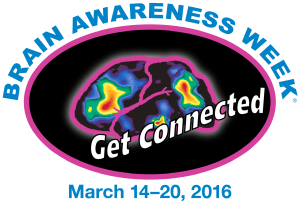 Every March, Brain Awareness Week (BAW) unites the efforts of partner organizations worldwide in a week-long celebration of the brain. BAW is a worldwide global campaign promoted by Dana Alliance for Brain Initiatives (Dana Foundation) and  European Dana Alliance for the Brain aimed to raise public awareness about the progress and benefits of brain research.
B4B Foundation is one of the official partners of the BAW and every year actively celebrates it  joining forces to raise awareness of rare pediatric neurological conditions.
Rare paediatric neurological diseases represent an unknown public health issue in Europe. Overall, there are thousands of rare diseases that affect a large number of people. About four million people in Germany and 30 million in Europe are estimated to suffer under one of 8.000 actually known rare diseases. But their seldom appearance makes it a great challenge for modern medicine. Often, the diseases are multisystemic and there are no main symptoms. Therefore a complex and interdisciplinary collaboration in diagnosis and treatment is necessary.
Given the general lack of knowledge and expertise about these conditions it's extremely important to promote awareness, among physicians and general public, about these disorders.
To this aim,  B4B, which is also the  organisation leading the Inherited NeuroMetabolic Diseases Information Network (InNerMeD-I-Network) project (www.innermed.eu), has organized  the  B4B & INNERMED meeting that will take place at the Hotel Rafael Atocha in Madrid, Spain, on March 16-19, 2016.
The programme will contain scientific and strategic sessions in which we will discuss:
1. Research achievements in the field of neurodegenerative diseases;
2. New recent advances on diseases natural history and pathophysiology ;
3. Factors which control the entry into the brain of medicines and other therapeutic agents which may be helpful in treating central nervous system disease;
4. How B4B and InNerMeD partners might collaborate with the European Union to stimulate interest on research in rare neurological diseases;
5. The role of the industries in driving innovation for new therapeutic approaches for true unmet needs.
Moreover,  the programme includes a Plenary Session to mark the retirement of David Begley. This special session will reflect David's major scientific contributions, and will consist of a mix of review lectures and contributions on new developments on Blood Brain Barrier and the delivery of therapeutics to the brain.
The establishment of an open dialogue among patients affected by rare diseases and their families, together with public authorities, researchers, health professionals, industry representatives and anyone who has a genuine interest in rare diseases  constitutes an important strategic action for overcoming the knowledge gap in the field of rare diseases.
B4B and InNerMed firmly believe that it is fundamental to manage rare diseases in an expert multidisciplinary setting where research, knowledge and expertise are easily shared,  assuring the best health outcomes for each patient.

Stay tuned for more updates
T download the scientific programme of the event click here :Brains For Brain 2016